Louise Bourgeois' (1911-2010) art has been exhibited in museums all over the world. She worked in many mediums, although she is probably best known for her sculptures of spiders. In 2011, one of her works, Spider, set a record for the highest price ever paid for a woman's piece of art, when it sold at auction for $10.7 million. In 2015, that same piece resold for $28.2 million. In Cloth Lullaby: The Woven Life of Louise Bourgeois written by Amy Novesky, illustrated by Isabelle Arsenault (Abrams Books for Young Readers) the author explores Bourgeois' life story. Louise was a young girl who was born in Paris into a family who restored tapestries, and she became one of the premier contemporary artists.
As a twelve year old, Louise learned the family trade, and she began to repair missing fragments of the tapestries that were brought to the shop. Her mother taught her about the styles of textiles, form, color, weaving, dyeing, and stitching. As a child, Louise also kept diaries of her thoughts and ideas. When she went to university in Paris, Louise first studied mathematics. After her mother's death, she went to the Sorbonne where she became fascinated with sculpture as well as painting.
After moving to the United States with her husband and children before WWII, Louise struggled with entering the art exhibition world in a new country. As she explored new areas in her own work, she began to be recognized. Bourgeois exhibited and taught for years, and she influenced many other artists.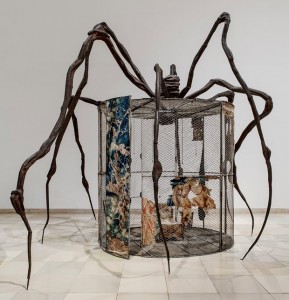 Some of her signature pieces and themes are very large spiders. She wrote that (Drawing was) "like a thread in a spider's web." And "If you bash into the web of a spider, she doesn't get mad. She weaves and she repairs it."
(Image taken from The Guardian)