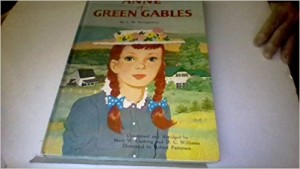 When I was young, the first book that I ever owned was an abridged version of Anne of Green Gables. The book was larger than most and lushly illustrated. I fondly remember pouring over this version for hours as my introduction to this spunky heroine. Anne is fearless and imaginative as she tackles the hurdles of finding a family.  While she stands her ground and won't be intimidated, she has a gentle soul and a kind heart.
Lucy Maud Montgomery based her novel on a story that she had heard about a couple who were sent an orphan girl instead of the boy they requested to help on their farm. She used experiences from her childhood as well as her home in rural Prince Edward Island, Canada as the foundation of the story. Montgomery went on to write many sequels to the original (1908) Anne of Green Gables.
Be sure to mark your calendars for this Thanksgiving evening when PBS will premiere a new film adaptation of Anne of Green Gables. In 2017, Netflix will also be presenting eight episodes of this beloved story.