Every fall, publishers tout their new holiday books for children. Some years, there are a plethora of wonderful titles while in other years, the quality varies. In my opinion, this year is one of the leaner publishing years, but there are a few titles that I would like to share for your family's holiday reading. The first two books mentioned below are for the younger set.
Nonna's Hanukkah Surprise by Karen Fisman, illustrated by Martha Avilés (Kar-Ben) is a delightful story of a young girl who looks forward to sharing the traditions of Hanukkah with her extended family. When she forgets her special menorah on the plane, she worries that Hanukkah will be ruined. Her Nonna comes to the rescue.
Ellis Paul celebrates the season with his title The Night the Lights Went Out on Christmas (Whitman), and it is illustrated by Scott Brundage. One family began putting a few holiday decorations in their yard and on their house. Then their neighbors joined in, and a friendly competition began. Before long, the neighborhood became a seasonal destination for folks to see the lights. One night, one light too many is lit and then…
Misha, a poor artist, has no one with whom to celebrate Hanukkah until he discovers a hungry cat in his barn. In A Hanukkah with Mazel by Joel Edward Stein, illustrated by Elisa Vavouri (Kar-Ben), readers learn that there are many ways to appreciate the generosity and wonder of the season.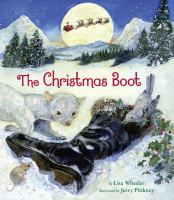 The extraordinary art of illustrator Jerry Pinkney is featured in The Christmas Boot by Lisa Wheeler (Dial). Hannah Greyweather's life is changed when she finds a magic wish-granting boot in the forest outside her home.