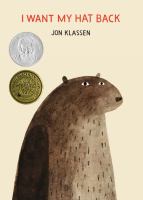 Canadian Jon Klassen is the author and illustrator of a picture book trilogy about different animals and their hats. The first, I Want My Hat Back (Candlewick, 2011), entertained young readers with a bear who is searching for his hat. When it dawns on the bear that he saw it on a rabbit, he retrieves it. Young readers are left with deciding what happened to the small, furry thief. Did the bear really do something wicked to him?
"…I haven't seen any rabbits anywhere. I would not eat a rabbit. Don't ask me any more questions."
The second book This Is Not My Hat (Candlewick, 2012), is laugh-out-loud funny, and Klassen won the 2013 Caldecott Award for excellence in picture book illustration for his artwork. Young readers once again argue over what happened to the little fish who admitted to stealing a hat from a very large fish. The little fish believes that he'll get away with his theft because only one crab knows where he will hide. The crab doesn't keep his hiding place a secret. Did something happen to the little fish?
The trilogy ends with We Found a Hat (Candlewick, 2016) when two turtles find a hat together. Both feel that the hat looks wonderful on them, but it wouldn't be fair for only one of them to own it. They leave the hat, but one turtle decides to go back for it when his friend is asleep. Does friendship win out over his desire for ownership?
In the second and third books, Klassen tells much of the story through the use of the characters' eyes. The illustrations are spare, yet brilliant.
In this video, Klassen refers to a picture book by Mac Barnett, Sam and Dave Dig a Hole (Candlewick, 2014). Klassen received a Caldecott Honor Medal for these illustrations. He describes how to depict emotions with eyes.