Ashley Bryan is a beloved illustrator and storyteller who has been highly honored for his work. His latest book, Freedom Over Me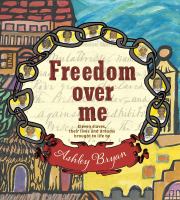 (Atheneum), is based on a collection of slave-related documents that Bryan acquired years ago. These documents were dated from the 1820s to the 1860s. The author chose to base his book on the appraisal of the Fairchilds' estate that was dated July 5, 1828. Among the properties that were listed for sale were cows, hogs, cotton, and slaves. The slaves were not named. They were listed as boy, man, girl, or woman, along with their worth.
By imagining background stories for these unnamed slaves, Bryan humanizes them. He describes the Fairchilds' plantation as having a fine reputation because of the work of the slaves who live there. For example, Peggy, the cook, is 48, and she is worth $150. Mrs. Fairchilds shows off Peggy's skills when she entertains. John is 16, and he is worth $100. When he was eight years old, he was given as a birthday gift to Mrs. Fairchilds, and he has secretly learned to read and write.
Freedom Over Me: Eleven Slaves, Their Lives and Dreams has been chosen as one of this year's Newbery Honor Books and Coretta Scott King Honor Books.