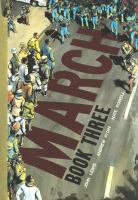 March: Book Three by John Lewis and Andrew Aydin, illustrated by Nate Powell (Top Shelf Productions)
The U.S. Representative for Georgia's Fifth Congressional District is John Lewis. Long before he became a Representative, Lewis was a leader in the Civil Rights Movement. In 1959, when he was a student at American Baptist Theological Seminary, he organized sit-ins in Nashville, Tennessee at segregated lunch counters. Lewis became one of the "Freedom Riders" who challenged segregation on southern buses. He was one of the principle speakers in the 1963 March on Washington. On March 7, 1965, Lewis led over 600 peaceful protestors as they crossed the Edmund Pettus Bridge in Selma, Alabama. While the demonstrators intended to march from Selma to Montgomery to bring awareness to the need for voting rights in Tennessee, they never finished their march. Instead, they were attacked by Alabama state troopers who used billy clubs and tear gas on the peaceful demonstrators. The day became known as "Bloody Sunday," as national news teams covered the event. The public awareness of the cruelty of this day helped to persuade Congress to pass the Voting Rights Act of 1965.
John Lewis chronicled his earlier years in the Civil Rights Movement with a trilogy for young adults entitled March. The books are written and illustrated as graphic narratives. The illustrator, Nate Powell, used black, white, and gray to evoke the somber events in striking images. While reviewers have praised the first two books in this series, March: Book Three has earned numerous awards. In 2016, it was the first graphic novel to win the National Book Award. The American Library Association recognized it this past January with a number of awards: the Corretta Scott King Book Award which recognizes an African American author, the Robert F. Sibert Informational Book Award, and the YALSA Award for excellence in young-adult nonfiction.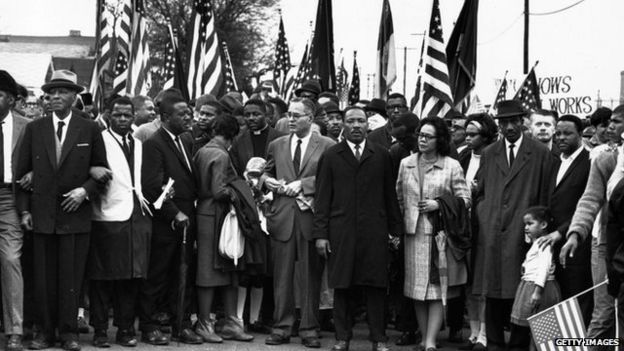 (AP Photo)
Young adults need to read this book to understand John Lewis' work and legacy. He remained and advocate for nonviolence, despite the fact that he was physically attacked and seriously injured during protests. He was arrested over 40 times. He continues to be a strong voice in our democracy. On March 7, 2015, he walked with others to commemorate the Selma march.
For our younger readers, there is an informative picture book biography, Preaching to the Chickens: The Story of Young John Lewis by Jabari Ism (Nancy Paulsen Books).
John Lewis has published adult titles including Walking with the Wind: A Memoir of the Movement, Wake Up America 1940-60, and Across That Bridge: Life Lessons and a Vision for Change.