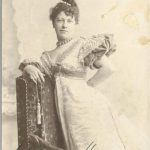 Many readers have heard about Harry Houdini, and they know some details about him as one of the most famous escape artists who ever lived. Few people know a magician who greatly influenced Houdini, and that magician was a woman, Adelaide Herrmann. Adelaide lived from 1853 to 1932, and to this day, magicians call her the Queen of Magic.
As a young woman, Adelaide was traveling from Europe to the United States on an ocean liner, and she became enamored with a young magician who was known as Herrmann the Great. Before they docked in New York, Adelaide proposed to him, and Adelaide and Alexander Herrmann were married by the mayor of New York City in 1875. She began to assist and appear in Herrmann's shows, and Adelaide became an important part of each performance. When Herrmann died unexpectedly, Adelaide was determined to keep their traveling show alive. She became the main performer, but Adelaide knew that to attract audiences, she had to become special. One trick that she perfected was the bullet catching trick, and the audiences were amazed. Over her sixty-five years of performing, Adelaide created many magic tricks of her own. She encouraged girls and women to learn magic, and Adelaide was always "Anything but Ordinary".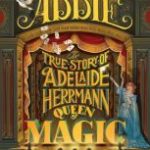 Author Mara Rockliff and illustrator Iacopo Bruno explore the Queen of Magic's life in Anything but Ordinary Addie: The True Story of Adelaide Herrmann, Queen of Magic (Candlewick).