It took more than three thousand years to make some of the trees in these Western woods – God has cared for these trees, saved them from drought, disease, avalanches…but he cannot save them from fools – only Uncle Sam can do that!  John Muir, 1901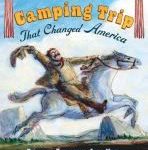 Years ago, I took my children to Muir Woods to see the colossal redwoods. I was reminded of that visit when I read The Camping Trip That Changed America: Theodore Roosevelt, John Muir, and Our National Parks by Barb Rosenstock, illustrated by Mordicai Gerstein (Dial).
In 1903, President Theodore Roosevelt wrote a letter to John Muir, a world-renown naturalist. He wanted Muir to take him on a camping trip. Roosevelt wrote "I do not want anyone with me but you, and I want to drop politics absolutely for four days and just be out in the open with you." Muir later wrote that he wanted to refuse Roosevelt because he was weary of giving tours to people who didn't understand the need to protect the wild lands. Thank goodness, John Muir changed his mind, or there might not have been the Muir Woods that I enjoyed with my boys.
In the middle of May, Roosevelt and Muir traveled high into the woods and then high into the mountains to Glacier Point. While three men accompanied them as packers and cooks, Roosevelt and Muir rode and hiked alone. They slept under the trees, and one evening, they encountered a spring snowstorm.
When Roosevelt returned to Washington, D.C., he was profoundly moved by his experiences with Muir. The President designated 18 areas of land as National Monuments, that put them under federal protection. During his presidency, 55 bird sanctuaries and game preserves were also founded.
(Photo courtesy of the National Park Service)