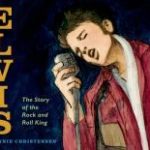 Elvis Presley's style of singing and performing is now legendary, but early in his life, few people understood him. Music floated all around East Tupelo, Mississippi, where he was born in 1935. As Elvis attended First Assembly of God Church with his mother, he joined in singing the hymns. Life was hard for his mother, especially when Elvis's father went to jail. The family moved around to try to make a better life. The constants in the boy's life were his mother and music. When they moved to Memphis in 1948, Elvis found some friends who enjoyed music almost as much as he did. In high school, other students made fun of him until he entered their talent show and shared his music.
Success didn't come overnight for Elvis. Rejections didn't deter him, and he saved to cut a record. He sang "That's All Right", a Delta blues song, in his own twangy style. When he began performing in public, Elvis moved to the music, and the rest is history and legend.
Bonnie Christensen's lyric prose evokes the poetry of Elvis's music in Elvis: The Story of the Rock and Roll King (Henry Holt).