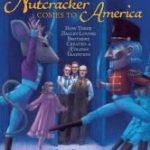 The Nutcracker ballet is performed in hundred of venues throughout the United States during the holiday season. Yet, few fans of this beautiful ballet know the story of the three brothers who first brought this 19th Century Russian ballet to American audiences. Author Chris Barton and illustrator Cathy Gendron share the story in The Nutcracker Comes to America (Millbrook Press).
The Nutcracker did not start out as the complex ballet and orchestral piece that it is today. In 1816, German author, E. T. A. Hoffman wrote a short story called The Nutcracker and the Mouse King. It wasn't until 1892 that Peter Ilyich Tchaikovsky composed the music and Marius Petipa and Lev Ivanov choreographed the ballet. It was first performed in St. Petersburg, Russia, but it didn't catch on. In 1919, the Moscow Bolshoi Ballet performed The Nutcracker, and the audiences were enthusiastic about it.
William, Harold, and Lew Christensen had grown up at their family's dancing school, and the young men became enamored with ballet. They put together a vaudeville act and traveled the country in the late 1920s. William moved to Portland, Oregon and opened a ballet school. In 1934, he teamed up with a conductor, who was a Russian immigrant, and William choreographed a few dances to go with Tchaikovsky's score. During this time, Harold and Lew were dancing and choreographing their own work in New York City.
By 1938, William (now calling himself Willam, without the "I" in his name), was the head of the ballet company in San Francisco. Willam convinced his brothers to join him there. (Lew served in the army from 1942-46.) In 1944, Willam and Harold learned more about The Nutcracker, from two friends from Russia who had performed in it there. The two brothers created the ballet which was presented only once at that time.
After WWII, the three brothers were reunited, and they presented The Nutcracker again, this time during the holiday season. Thus began the cherished tradition. Various choreographers have adapted the ballet, yet the roots of every performance still harken back to the Christensens.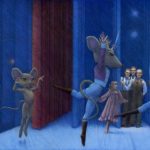 In his author's note, Chris Barton states that he first heard about the Christensen brothers when Willam died in 2001. He became intrigued by this story.
Cathy Gendron describes her illustrations in the illustrator's note. "My paintings begin with pencil on gesso, a white base layer. Then thin oil glazes are applied, one over another f0r as many as ten to fifteen glazes per painting. The process is slow and meticulous, but the resulting rich color intensity is worth the time and effort."
The Boston Ballet performs it every year.