That brain of mine is something more than merely mortal; as time will show.       – Ada Lovelace
This quote by Ada Lovelace (1815-1852) is not exactly humble, but neither were her parents. Ada's father was the poet, Lord Byron. A month after she was born, Ada's parents separated. Her mother, Anne Isabella Milbanke, Lady Wentworth, retained complete custody, which was unusual in the male dominated English society. Ada never saw her father again, and Lord Byron died when she was eight years old.
Lady Wentworth always worried that Ada would become imaginative and reckless like her father. To combat this, her mother instructed Ada in mathematics. She was an anomaly because there weren't many female mathematicians during the first half of the 1800s. When Ada and her mother toured factories, as many wealthy families did for entertainment, Ada's imagination came alive with ideas. She called one of her first ideas, Flyology, as she imagined a mechanical horse that would take to the air.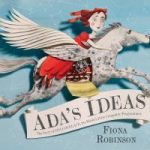 When she was 17 years old, Ada met the inventor, Charles Babbage. He was a mathematician and engineer, and his primary project was "The Difference Machine". Babbage envisioned a team-powered calculator that would always produce the right answer. After she was married to Lord William King, Earl of Lovelace, Ada began to help Babbage with his newest invention, "The Analytical Engine", which was an early computer design. The Analytical Engine was based on the concept of a Jacquard loom which used hole punched cards to calculate sums. Even now, mathematicians marvel at the complexity of Ada's work. She has been called the world's first computer programmer.
Two picture book biographies were published about Ada Lovelace within months of each other. Both highlight the life and incredible mind of this remarkable woman. Take a look at Ada Lovelace, Poet of Science (Simon & Schuster) written by Diane Stanley and illustrated by Jessie Hartland or Ada's Ideas (Abrams) written and illustrated by Fiona Robinson.
The Association for Women in Computing (AWC) presents the Ada Lovelace Award. "The award is given to individuals who have excelled in either of two areas: outstanding scientific technical achievement and/or extraordinary service to the computing community through accomplishments and contributions on behalf of women in computing." (AWC)