Pride of race is the antidote to prejudice.
– Arturo Alfonso Schomburg
Carole Boston Weatherford has been honored for a number of her books. One of her most recent is Schomburg: The Man Who Built a Library (Candlewick), illustrated by Eric Velasquez. Arturo (later Arthur) Alfonso Schomburg (1874-1938) was an important figure in the Harlem Renaissance because of his work in unearthing African-American history.
Born in Puerto Rico, Schomburg's mother was a black midwife, and his father was a German merchant. When he was in fifth grade, his teacher told him that black people had no history and no heroes or accomplishments worth noting. That ignited a lifelong passion in Schomburg to unearth the heroes and accomplishments of non-whites. When he was seventeen years old, Arturo immigrated to the United States. Landing in New York City, he had visions of pursuing either medicine or law after he learned to speak English. Because his official school records had been lost in a fire, no school of higher education would admit him to study. Arturo then returned to his passion for locating information about people of color. Carole Boston Weatherford states, "Arturo had what he called the book hunting disease." (Photo from blackpast.ort)
Schomburg became entranced with researching information on Phillis Wheatley, Frederick Douglass, Toussaint Louverture, the Amistad, and many, many other people and events. Again, quoting Weatherford:
Arturo suspected a conspiracy of fraud that aimed to erase all African history but bondage…When genius was black, skin color was left out. But Schomburg chased the truth and turned up icons whose African heritage had been white-washed.
He unearthed the fact that John James Audubon's father was a French plantation owner and his mother was a Creole slave. Frenchman Alexander Dumas who wrote The Three Musketeers was descended from slaves.
Even though he worked in a bank as a mailroom clerk, Schomburg carried on a correspondence with Booker T. Washington and W.E.B. DuBois. He debated them and discussed black history. Schomburg began to travel to lecture about black history and continue to look for books about people of color who contributed to society.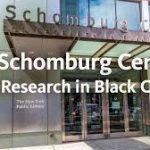 When Schomburg's personal library overtook his home, he decided that his collection needed to be given a broader audience. In 1926, The Carnegie Corporation bought his collection for $10,000.00 and donated it to the New York Public Library. It became part of the 135th Street branch in Harlem. "It included more than five thousand books, several thousand pamphlets, plus priceless prints and papers…"
In his retirement, Schomburg was hired to found Fisk University Library's Negro Collection. On his return to New York City, he continued to search out material for the Division of Negro History, Literature and Prints at the library. He focused on collecting the work of artists of the Harlem Renaissance. Because of Arturo Alfonso Schomburg's dedication and collection, he proved that teacher of his childhood wrong.
I am proud to be able to do something that may mean inspiration for the youth of my race.
– Arturo Alfonso Schomburg