Jane Austen is the pinnacle to which all other authors aspire.
J. K. Rowling
Children's picture book biographies are often a fine way to get the basic information about a person. The genre can be enjoyed by all ages. I often feature a picture book biography as a recommended book because authors and illustrators have been producing better and better offerings each year.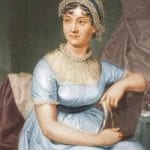 As I recommend the title, Brave Jane Austen: Reader, Writer, Author, Rebel (Holt) by Lisa Pliscou, illustrated by Jen Corace, I have to fully disclose that Jane Austen is my favorite author. I've read all of her books a number of times. This past summer, I decided that I hadn't revisited her works for a few years, so I started my journey through them again. When I read them, I always do so in chronological order from when they were published. I'll admit that after I finish one, I'll watch different movie versions that were made of the book. Complete Austen fanatic!
In Brave Jane Austen, the author includes many significant details about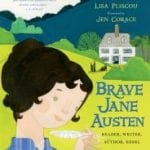 her life. She doesn't simply chronicle her childhood and adult writing, but she includes small details that were important to the plots of Austen's books. For example, Pliscou includes the details in a scene when Jane was ill while she was away at an inexpensive boarding school. Jane got so sick that her mother was sent for, and she was brought home to convalesce. In Sense and Sensibility, Marianne falls ill while away from home, and her mother, Mrs. Dashwood travels to be by her side.
During her next months at home, Jane spent many hours reading in her father's library. She read Shakespeare, Johnson, Cowper, Swift, Defoe, and many others. This became a foundation for her curiosity and desire to write.
As she grew up, Jane followed the social norms of many girls in her economic class. She stitched, walked, played the piano, and attended dances and soirees. She also wrote and wrote and wrote. In her novels, Jane goes into great detail about those same activities in which her characters take part.
Jane's father was the one who inquired about having her stories published because it was unladylike for a woman to do so. His request was rejected, and it wasn't until later in her life that Jane succeeded in finding a publisher. When her books were published, they were wildly successful. That was over two hundred years ago. How many of today's writers will have that longevity?