I do not make films primarily for children. I make them for the child in all of us, whether we be six or sixty.                            –Walt Disney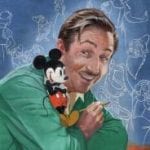 Walt Disney's name is synonymous with movies and theme parks, yet his is a "rags to riches" life story. Walt's Imagination (Disney/Hyperion) by Doreen Rappaport, illustrated by John Pomeroy, is a picture book biography that highlights his many accomplishments.
When Walt was nine years old, his family moved from their farm in Marceline to Kansas City, Missouri. Life was not easy for Walt and his brother, Roy. Their father started a newspaper delivery business, and the two brothers got up every morning to deliver papers at 3:30am. While the other newsboys were paid, Walt and Roy were not because his father said that he clothed and fed them. Walt took another job after school to earn spending money, and he was so exhausted that he sometimes fell asleep at school. One of the bright spots in his life was Walt's love of drawing. When he was in high school, he got two part-time jobs to be able to go to art school in the evening.
During WWI, after telling a lie about his age, Walt joined the Red Cross and delivered food to war-torn villages in France. While there, he drew on tanks and helmets. When he returned to the United States, Walt became fascinated with animated cartoons, and he used his savings to begin an animation studio. His beginning efforts were fruitless, so Walt headed out to join Roy in California where they began another studio together. Roy became the photographer for the animated drawing that Walt created. They started an animated series, The Alice Comedies, which moviegoers enjoyed.
In 1927, the Disney brothers experimented with sound and a new character that Walt created – Mickey. Steamboat Willie was a huge success, and Walt Disney won an honorary Academy Award for the production. Ub Iwerks was an artist friend who joined Walt and Roy on these early movies. Walt and Ub came up with The Silly Symphonies and one of the most popular was The Skeleton Dance.
And as the saying goes…."The rest is history."