Before she became an author of young adult books, Sharon Draper taught in middle schools and high schools. Her plots and characters demonstrate that she understands and remembers a child's and young adult's experiences. Ms. Draper has a talent that takes her readers into her character's thoughts and experiences.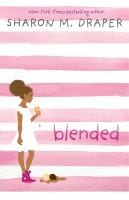 Sharon Draper's newest book is Blended (Atheneum), and I highly recommend it for readers in grades 5 and higher. Eleven-year-old Isabella is a gifted pianist who is struggling with her parents' divorce. She spends one week with her father and the next with her mother. Those weeks could not be any more different. Her father is black and wealthy and calls her Isabella, while her mother is white and struggling financially and calls her Izzy. Friends, acquaintances, and strangers often comment on her unique beauty, but Isabella is questioning which world, if any, represents her true identity.
Her parents are not navigating their shared custody with grace, and Isabella constantly feels pulled between them. Her life is further complicated by her mother and father finding new partners. Isabella escapes into her music and tries to keep everyone happy. When the son of her father's fiancé drives her to her piano recital, they are pulled over and injured by the police because of racial profiling.
This book is thoughtfully written. Today's issues of identity and race are presented from a young adult's experiences.
Don't just take my word for it. Check out this enthusiastic review by Colby Sharp.