Eugenie Clark was born in 1922, a time when girls were supposed to play traditional roles and only work in jobs that were for women. She was far from traditional, and Eugenie had a specific dream. As a child, Eugenie loved to visit the New York Aquarium. She spent countless hours there while her widowed mother worked. The fish mesmerized Eugenie, and she longed to be in their world. When she shared her passion for becoming a fish scientist, her mother suggested that if she took up typing, Eugenie might become the secretary to the marine explorer, William Beebe. Being a secretary wasn't the path that Eugenie planned to take.
After earning a Bachelor's Degree and her Master's Degree in zoology, Eugenie's dream became real when she became a research assistant and took even more oceanography classes. She became an ichthyologist or fish scientist. That's when Eugenie's adventures and her career took off in ways that young girl peering into the tank at the aquarium never could have imagined. (Photo from ocean.si.edu)
When Eugenie was working with the US Navy and studying poisonous fish in the South Seas, she became even more intrigued with sharks. Throughout her life, Eugenie became an advocate for sharks as she educated other scientists and the public about these mighty fish. She founded the Cape Haze Laboratory which is now named the Mote Marine Laboratory.
Throughout her life, Eugenie Clark fought discrimination as a Japanese American and a woman in a field dominated by men. Her research on sharks is some of the most important knowledge that we have about these mighty ocean inhabitants.
There are two picture book biographies about this amazing woman: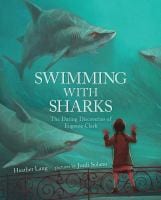 Swimming with Sharks: The Daring Discoveries of Eugenie Clark by Heather Lang, illustrations by Jordi Solano (Albert Whitman)
Shark Lady: The True Story of How Eugenie Clark Became the Ocean's Most Fearless Scientist by Jess Keating, illustrations by Marta Àlvarez Miguèns ((Sourcebooks)
https://youtu.be/8WIe9FUMYwk