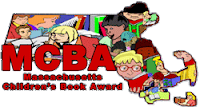 The winner and honor books for the 2019 Massachusetts Children's Book Award were announced this month. While our readers at DCD didn't choose the state winner, they voted for three of the books that are the 2019 honor books.
Jennifer Nielsen's book, A Night Divided, was this year's winner. Her thank you letter discusses her novel and her inspiration for it.
"The book's origin came from Ilona, a friend of our family's. She was born into East Germany and at age five, her family made the decision to escape. Ilona's parents planned to escape through the countryside. However, they didn't want to take a five-year-old running through the countryside, so a different plan had to be put in place for Ilona.
Her grandparents in the west would come over by train, and then return by train with Ilona – not on the seat beside them because she had no papers. Instead, Ilona was drugged, put to sleep, and hidden in the baggage car of the train beneath a pile of hay. The knew the car would be searched at the border, and if Ilona even rolled over in her sleep, she would be sent back to East Germany alone and her grandparents would be arrested, or worse.
In the end, all of Ilona's family successfully escaped, but when I heard her story, I knew I wanted to tell the story of the people of East Germany. It means so much to me that you then read this book, and loved it."
To read the rest of Nielsen's acceptance letter go to the MACBA site here.
The honor books are Ghost by Jason Reynolds, A Handful of Stars by Cynthia Lord, Rain Reign by Ann M. Martin, and Framed by James Ponti.