As I grow older, I pay less attention to what men say. I just watch what they do.
Andrew Carnegie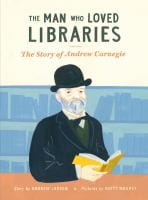 The Man Who Loved Libraries: The Story of Andrew Carnegie by Andrew Larsen, illustrated by Katty Maurey (Owl Kids)
When he was taking a walk one day, Andrew Larsen read a historical plaque that he noticed on the front of a public library. The wording on the plaque stated that the money used to build the library came from a Carnegie grant. This aroused Larsen's curiosity and led him to research the life and philanthropy of Andrew Carnegie.
The Carnegies moved to Pittsburgh, PA in 1848 when Andrew was only 12 years old. His family emigrated from Dunfermline, Scotland where his father was an impoverished weaver. Once in America, Andrew went to work in the Anchor Cotton Mills as a bobbin boy to help support his family. Since he had to work, he was unable to receive any other formal education. There were no public libraries, but a local businessman, Colonel Anderson, welcomed young workers to his home to borrow books from his private collection.
While he wasn't intimidated by hard work, Andrew moved on to make more money as a messenger boy delivering telegrams. He soon also learned to operate the telegraph equipment which eventually landed him a job as a telegraph operator with the Pennsylvania Railroad Company. Carnegie rose in the ranks and saw a future in railroads. He invested in railroads and companies producing oil, iron, and steel, and he became very wealthy.
While some of his business practices may be considered controversial, Carnegie believed in giving back to others. In 1901, Andrew Carnegie began to "pay it forward". He remembered Colonel Anderson's generosity in sharing his books. Thus began Carnegie's plan to build public libraries to give others the opportunities that he experienced through borrowing books and reading. He built his first public library in Dunfermline to honor his birthplace. Between 1893 and 1929, Carnegie's foundation donated the money to build 2,509 libraries. There were 43 Carnegie public libraries built in Massachusetts. Andrew Carnegie's legacy continues to live on.