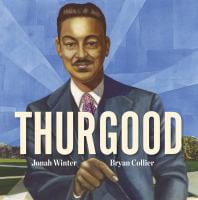 Thurgood by Jonah Winter, illustrated by Bryan Collier (Schwartz & Wade Books)
Growing up in Texas, Jonah Winter heard racial epithets on a daily basis, and he observed the segregation that was accepted in society. As an adult, he began writing picture book biographies about personalities who faced that bigotry and prejudice and worked to eliminate it. One of Winter's most recent books is Thurgood, and he chronicles the life of the first black Supreme Court Justice.
The grandson of a slave, Thurgood Marshall devoted his life to fighting racial injustice by changing the immoral laws that allowed it. The landmark case that Marshall won for his client was Brown vs. The Board of Education, but he struck down Jim Crow laws with many other cases also. Because of his advocacy, the Supreme Court decided in his favor in twenty-nine out of the thirty-two cases that he brought before the justices.
• After he represented Donald Gaines Murray who wasn't allowed into The University of Maryland law school, the Supreme Court ruled that the school must accept black students. The University of Maryland had denied Marshall entry years before the case.
• After he represented Lonnie Smith who wasn't allowed to vote in a Texas primary, it became a law that the voting rights of all citizens are protected.
• After he represented Irene Morgan who was arrested for not giving her seat to a white woman, it became illegal to deny black people the right to sit where they please.
• After he represented Ethel and J. D. Shelley who weren't allowed to purchase a house in St. Louis because they were black, it became illegal to refuse to sell a house to a person of color.
Thurgood Marshall earned the nickname "Mr. Civil Rights." He took on one racist law at a time, as he fought for equal protection of all citizens that was part of the U. S. Constitution.