People seem to think because I have a pretty face I'm stupid…I have to work twice as hard as anyone else to convince people I have something resembling a brain.                    – Hedy Lamarr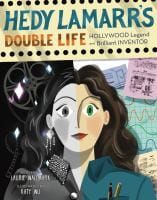 Hedy Lamarr's Double Life: Hollywood Legend and Brilliant Inventor by Laurie Wallmark, illustrated by Katy Wu (Sterling Children's Books)
During the 1940s and 1950s, Hedy Lamarr was known as one of the world's most beautiful women. She was in many movies as the glamorous leading lady. Few people had any idea that this attractive star was also a self-educated scientist and inventor.
Born in Austria to Jewish parents, Hedwig Eva Maria Kiesler was curious about science as a child. When she was five years old, she wanted to understand the mechanism of her music box, so she took it apart. Another interest that turned into a passion was her desire to act, and Hedy had her first minor role in a movie as a teenager.
Hedy's first husband was a Viennese arms and munitions dealer who had ties to Adolph Hitler. She attended many science and military conferences with him, and those events reignited her interest in science. In 1937, Hedy left her marriage and her fears of Germany's rise to power in Europe. She met Louis B. Mayer, the head of MGM Studios, and she was signed to an acting contract in the U.S. where she soon became a star. Mayer suggested changing her name, and from then on, she became Hedy Lamarr.
While Hedy's vocation was acting, her avocation was inventing. She devoted an entire room in her home to be used for experiments, and she had a wall of engineering and science reference books. After meeting George Antheil, a music composer and former weapons inspector, Hedy investigated the problem that the military was having with torpedo guidance systems. The two friends came up with the concept of frequency hopping, and they were awarded a patent for their invention. The navy didn't put any resources into building the system but they classified it top secret. When it was declassified years later, the patent had run out. The basis for the technology is used today as a means of securing wireless communications for cell phones and computers.