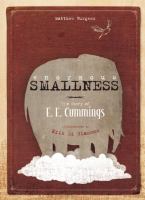 April is poetry month, and what better way to celebrate than with a picture book biography about e.e.cummings? enormous SMALLNESS: A Story of E. E. Cummings is written by Matthew Burgess (Enchanted Lion Books).
Edward Estlin Cummings enjoyed a childhood where he was nurtured and praised for his keen observation and love of words. Growing up in Cambridge, MA, his mother wrote down his poetry, even before he could write his poems himself. Called Estlin by his family, as a student, he always remembered his favorite teacher, Miss Maria Baldwin, who taught him
 anything is possible,
    as long as you are true to yourself
and never give up, even when the world
    seems to say, stop!
When Estlin graduated from Harvard, he spoke to the audience about "The New Art" of Gertude Stein, Paul Cezanne, and Igor Stravinsky. He moved to New York City, served as an ambulance driver in France in WWI, was imprisoned as a spy, and finally returned to the United States. Then, Cummings wrote and wrote, and he developed a style all his own. He put lowercase letters in place of capitals and played with punctuation. His name began to appear with little e's. When he first began to break rules, readers didn't know what to make of it, but they soon became enthralled with his images. e.e.cummings has become one of our premier American poets.
The Sky Was
the
sky
was
can    dy    lu
minous
edible
spry
pinks shy
lemons
greens    coo    1 choc
olate
s.
un    der,
a    lo
co
mo
tive        s  pout
ing
vi
o
lets
Enjoy his descriptive language as the poet himself reads "in Just spring".