When the Beat Was Born: DJ Kool Herc and the Evolution of Hip Hop by Laban Carrick Hill, illustrated by Theodore Taylor III (Roaring Brook Press)
Hip hop is the voice of this generation. Even if you didn't grow up in the Bronx in the '70s, hip hop is there for you. It has become a powerful force. Hip hop binds all of these people, all of these nationalities, all over the world together.   Kool Herc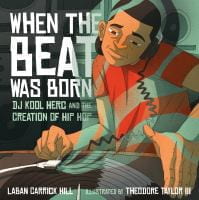 Clive Campbell was born in Kingston, Jamaica. Growing up, he heard the sounds of dance parties in the streets. Even though he was too young to go to the evening parties, he liked to hang around the DJs when they were setting up their equipment. That's when his fascination with music began. He never formed a band, but he became a very different kind of performer.
When he was 12 years old, his parents moved to the Bronx in New York City. In high school, he was good at basketball, and his friends called him Hercules. Eventually, he became known as Kool Herc. He and his sister began hosting parties in the recreation room of their apartment building. They charged people to come, and Kool Herc especially liked to play albums by James Brown.
Before one of Kool Herc's dance parties, he came up with the idea of using two turntables to play with the instrumentals of the albums. He created longer breaks for dancing. His friends and other party attendees enjoyed it when he began calling them out in ways that went with the music. Soon his parties became so large that he took them to the streets. That's when his fans began to breakdance in the street.
Kool Herc is credited as a pioneer of hip hop. He influenced many DJs and performers who emulated his style.
Author Laban Carrick Hill and illustrator Theodore Taylor III produced a picture book biography that introduces this musical innovator to readers of all ages.