Generally speaking, books don't cause much harm. Except when you read them, that is. Then they cause all kinds of problems.        Pseudonymous Bosch
During the summer months, children and adults have more time to read for pleasure. Having unlimited choices can sometimes be daunting though. I've gone back through my archives to find some of the best books that I've reviewed over the years. These recommendations are all novels that were published a while ago, and since they aren't new, readers might not find them on their own. I've looked to include series and authors who have written multiple books. I know that when I find a book that I enjoy, I'm thrilled when the author has other books because I usually will enjoy them also. It would be easy to just recommend J.K. Rowling and the Harry Potter Series or Rick Riordan and his Olympians Series, and these are super, but do check out some of these other "Hidden Gems".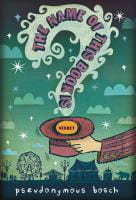 The Secret Series by Pseudonymous Bosch: Readers know that a pseudonym is a fictitious name (or when an author doesn't want to reveal his/her own name). From the beginning, the reader wonders what kind of author has written the first book in the series, The Name of This Book Is Secret. The answer comes in the first pages, even before the first chapter, when the author writes, "Generally speaking, books don't cause much harm. Except when you read them, that is. Then they cause all kinds of problems." Pseudonymous Bosch talks directly to the readers, similar to the way that Lemony Snicket does in The Series of Unfortunate Events. He gives warnings, tells the reader that he isn't going to tell everything (hmm..), and displays a great deal of humor by teasing the readers with just enough information to keep them wondering where he is heading with the story.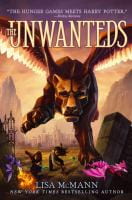 One of my favorite series is The Unwanteds by Lisa McMann. When I first read about the series in my professional journals, it seemed that the reviews contained a bit of hyperbole. The Unwanteds was described as "The Hunger Games meet Harry Potter". When I began to read the first book, I was hooked. I continue to recommend these books to children in the intermediate grades and middle school. Fast forward through the seven books in the series, and Lisa McMann has written a companion series, The Unwanteds Quests.
Before she became an author of young adult books, Sharon Draper taught in middle schools and high schools. Her plots and characters demonstrate that she understands and remembers a child's and young adult's experiences. Ms. Draper has a talent that takes her readers into her character's thoughts and experiences. Sharon Draper's newest book is Blended, and I highly recommend it for readers in grades 5 and higher. Eleven-year-old Isabella is bi-racial and a gifted pianist who is struggling with her parents' divorce. Some of the events are very pertinent to events occurring in our nation today.
Richard Peck's novels for children and young adults have received many awards and commendations: the Newbery Medal, Edgar Allan Poe Award, Scott O'Dell Award for Historical Fiction, Edgar Award, and as National Book Award finalists. All of this recognition means nothing to a fifth, sixth, seventh, or eighth-grade reader. They aren't impressed. They want to read books that speak to them where they are. Richard Peck does just that. The main character in The Best Man is Archer, and his family members help him navigate the daily decisions that he makes that define him as a person. There is a great deal of humor in the author's sensitive descriptions of bullying, homosexuality, divorce, and the hierarchy in middle school. Even though the author is addressing these weighty topics, he does so in a highly entertaining way, recognizing them as aspects of everyday life.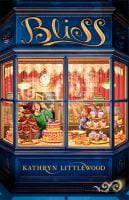 Bliss, by Kathryn Littlewood (HarperCollins), introduces a delightful family who own a bakery that is beloved in their town. The protagonist, Rose, suspects that her parents employ magic when baking some of their special foods. When her parents go out of town, Rose and her siblings are supposed to protect the family's Cookery Booke, which is kept under lock and key. They are surprised when a flashy aunt, whom they never knew before, rides into town on her motorcycle. Rose is drawn in by her new-found aunt, and she begins playing with powerful magic. This is the first book in the Bliss Bakery Trilogy. The other books are A Dash of Magic and Bite-Sized Magic.
Jennifer Holm's book, The Fourteenth Goldfish, is a humorous book that tackles the subject of immortality. Humor and immortality? Yes, the main character, Ellie, is a sixth-grader who is struggling to navigate middle school. She misses her best friend, and she learns that her mother had been replacing her goldfish every time it died without her knowledge. When a new, weird boy approaches her, he reminds Ellie a lot of her grandfather who is a scientist obsessed with immortality.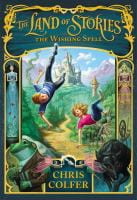 In The Land of Stories: The Wishing Well by Chris Colfer, twins enter a magical world of fairy tale characters through a special book. The characters are real, and their lives have continued past the stories told to children. This is the first of The Land of Stories Series, and it is filled with adventure and humor. Colfer has written another series that starts with A Tale of Magic.
A series that uses the same fairy tale concept is The Sisters Grimm by Michael Buckley. The first book is The Fairy Tale Detectives. This series is a must read for any child who enjoys fairy tales, adventure, humor, and magic. There is a richness to the series because readers are introduced to fairy tale characters of whom they may never have heard. Even a reader with a solid literature background will be intrigued to learn more information about Mordred, Morgan le Fay, and Excalibur from Arthurian legend, Puck from Shakespeare, and Baba Yaga, from Russian folklore. Buckley does not limit himself from using only characters from the Brothers Grimm, but he entwines their lives with stories from Hans Christian Andersen, Andrew Lang, Washington Irving, Charles Perrault, L. Frank Baum, Lewis Carroll, Carlo Collodi, and American tall tales.
Chris Grabenstein entertains readers with his series that begins with Escape from Mr. Lemoncello's Library. He tells the story of a group of children who stay overnight in the new town library designed by Luigi Lemoncello, a master puzzle maker. They form teams to solve his master puzzle.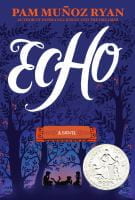 Echo by Pam Munoz Ryan is a difficult book to describe because it shifts back and forth from fantasy to reality. In a mysterious and forbidden forest, a man meets three strange sisters who deliver a prophecy, a promise, and a harmonica. That harmonica is intertwined within three other stories. Readers will be drawn to the challenges that Friedrich in Germany, Mike in Pennsylvania, and Ivy in California face during different time periods. This is a long book with 592 pages, and readers will be so engrossed in the plot that they will be disappointed to have it end.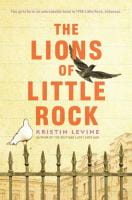 The Lions of Little Rock by Kristin Levine is historical fiction that chronicles the racism and discrimination that existed in our society, especially in Little Rock, Arkansas in 1958. Marlee, an extremely shy girl watches as her city, and even her family, are divided in their opinions over school integration. Marlee becomes friends with Liz, a new student who is everything that she isn't. Marlee is so quiet that she borders on being mute, and Liz is outgoing and brave. Through Liz's friendship, Marlee gains self-confidence. When Liz suddenly stops coming to school, her friend discovers that it is because Liz was actually a light-skinned African American who had been passing for white. Even though there was a federal school integration order, the local
authorities were still maintaining all-white schools.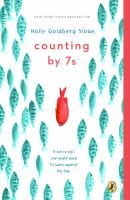 Counting by 7s by Holly Goldberg Sloan has an unforgettable protagonist who narrates the novel. Sloan's protagonist, Willow has a unique and profound voice that resonates throughout the story. Depending on your point of view, you will want to be her friend, or teacher, or parent. Her world falls apart when she is in middle school. It's no spoiler to tell you that in the opening chapter, the reader learns that Willow's parents die. While this shatters Willow's world, a diverse group of individuals reaches out to save her. It is Willow who saves them and brings out each one's "giftedness" (my term). Do share this book with a fifth, sixth, or seventh grader, but be sure to read it yourself too.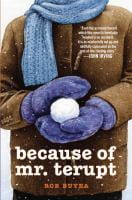 In year's past, our fourth, fifth, and sixth graders enjoyed Because of Mr. Terupt by Rob Buyea. The chapters of the novel are told through the voices of various students, and readers gain insight into an event through different perspectives. A review in Booklist described Mr. Terupt, the protagonist of the novel as one of those teachers "who encourage their students to think for themselves, question the conventions they understand about school, and become better people." This is the first in a series.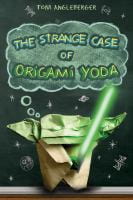 Obi-Wan Kenobi used the phrase, "May the force be with you", when he wished Luke Skywalker luck when they were saying good-bye to each other. Tom Angleberger's Origami Yoda Series starts with The Strange Case of Origami Yoda. This is written in a notebook or journal form with short chapters that are narrated by different characters. It seems that Dwight, probably the nerdiest student in McQuarrie Middle School, has begun carrying around his origami creation of Yoda. When he puts Origami Yoda on his finger and answers his classmates' questions, Yoda is much wiser than Dwight could ever be. Tommy and his friends struggle to decipher whether Origami Yoda truly does have power. He must because that's the only way to explain how someone as clueless as Dwight could offer such sensible advice.
"And now, the stories are yours…"      – Mrs. Farquharson