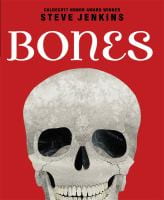 Steve Jenkins writes cool books. There's no better way to describe his creations that are so appealing to children. He presents information in a format that entertains his readers as he educates them. Growing up as the son of a science professor, Jenkins has been interested in the natural world since he was a young boy. His work is characterized by that childhood wonder.
Bones (Scholastic, 2010) is one of Steve Jenkins'  titles where he uses cut paper collage to illustrate the differences between human and animal bones. The author depicts many of the bones in their actual size.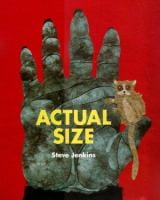 While Jenkins has written and illustrated many previous titles, the book that our readers enjoy the most is Actual Size (Houghton Mifflin Books for Children, 2004). The colorful artwork in Actual Size is torn and cut paper collage, and the illustrations depict all or a part of some animals and insects. The cover alone will intrigue readers.
Some of Steve Jenkins' other cool books are Eye to Eye: How Animals See the World (Houghton Mifflin Books for Children, 2014), Animals Upside Down (Houghton Mifflin Books for Children, 2013) and Never Smile at a Monkey: And 17 Other Important Things to Remember (Houghton Mifflin Books for Children, 2009). He has written many, many others. He has an interesting video on his website about how he constructs his books.
(This is an edited version of a previous blog post.)