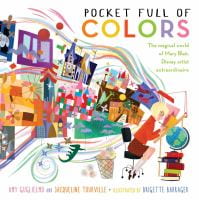 Mary Blair's Unique Flair: The Girl Who Became One of the Disney Legends by Amy Novesky, illustrated by Amy Novesky (Disney Press)
Pocket Full of Colors: The Magical World of Mary Blair, Disney Artist Extraordinaire by Amy Guglielmo and Jacqueline Tourville, illustrated by Brigette Barrager (Atheneum)
We are artists, dear, in love with art and each other. We must make these loves coincide and melt into a beautiful, happy and rich life – that is our future…we'll live to be happy and paint to express our happiness.                                 Mary Blair
Mary wrote those words in a letter to her husband, Lee, in 1933. How prophetic they were because she went on to become one of the most influential artists for Walt Disney and his enterprises.
Mary Browne Robinson loved art as a child, and her parents supported her interest and budding talent. When the family moved from Texas to California, she kept her sketchbook with her during the journey. When she was in school, Mary drew all over her textbooks. After college and art school, she married Lee Blair and began to work at the Walt Disney Studios. There, she worked on some of the classic movies including Dumbo and Lady and the Tramp. Mary's greatest contributions to the Disney movies were when she was responsible for the color styling for Cinderella, Alice in Wonderland, and Peter Pan.
After resigning from Disney and working on projects for many other companies, Walt Disney sought her out to help him with his newest attraction, "It's a Small World". This attraction was one of Mary's ultimate artistic accomplishments as she shared her colorful world.
Mary Blair's favorite color was white, the color of possibility.
Check out the website, Magic of Mary Blair, which is owned by Mary's nieces.