Reading is important because if you can read, you can learn anything about everything and everything about anything.        – Tomie dePaola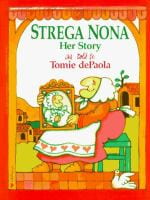 Strega Nona – How many children and adults smile with instant recognition when they read or hear that name! Tomie dePaola created this magical character in 1975, and she is still a Grandma Witch whom millions enjoy today. Big Anthony, Strega Nona's helper, thinks he knows the secret to her pasta pot when he watches her sing. He fails to see that she blows three kisses to stop the pasta from multiplying. When Strega Nona goes out of town, Big Anthony uses her pot, but he can't stop the pasta from expanding and taking over the town. Fortunately, Strega Nona returns and uses her magic. She tells the townsfolk and Big Anthony that "The punishment must fit the crime…So, start eating."
This talented author/illustrator went on to write many more tales about Strega Nona and Big Anthony. He wrote board books, big books, picture books, chapter books, and fact books. He wrote about families, magic, holidays, legends, folktales, and non-fiction topics. He not only created Strega Nona, Big Anthony, and Bambolina, but also Bill and Pete, the Barkers, and many folklore characters. He even collaborated with the Jim Henson workshop and produced some delightful tales with them. Some of dePaola's finest books are his memoir series where he describes growing up. Children and adults alike are entertained with his vivid and endearing descriptions. (Photo from the New York Times)
Tomie began doing art when he was four years old. Growing up in an Irish/Italian family in Meriden, CT, his family encouraged his talent. In interviews, Tomie often said that his family's stories became such a part of the themes of his books. After earning a Master's Degree in Fine Art and then a doctoral equivalency, this talented artist was a college professor at a number of California and New England Schools. In the 1970s, he retired from his formal teaching responsibilities and concentrated solely on writing and illustrating children's books.
During an interview with the Boston Globe in 2007, Tomie was asked about having studied the master artists. He answered, "Matisse is my favorite because he didn't want the viewer to see the hard work that went into his painting. He would start out with a rendering, then simplify and simplify. I try to be as clear and simple as I can be in my illustrations so that the child can tell what is going on and what the emotions are." For me, Tomie even resembled Matisse a bit, both physically and in the sophisticated simplicity of his art.
Tomie dePaola was a master.
Do check out his website to learn more about his books.