You should always be doing something that satisfies you, what makes you feel good inside. 
― Charley Harper from Charley Harper: An Illustrated Life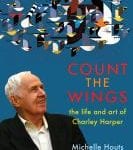 Michelle Houts introduces intermediate and middle school readers to Harper in Count the Wings: The Life and Art of Charley Harper (Ohio University Press). The author was given total access to Charley's childhood photographs, letters, grade cards, art school documents, wedding pictures, awards, and commendations by his son, Brett
Houts narrates the life story of this West Virginia farm boy who never had a formal art class until after high school. When he was young, Charley enjoyed sketching and observing nature. The author learned an anecdote about his schooling:
He was a good student, but he quickly figured out that he could get even better grades in both English and history if he added a few illustrations to his homework papers. Charley liked to tell the story of how he once saved his history grade by drawing all the presidents. (Houts, p.9)
After a short attendance at West Virginia Wesleyan College, Charley took a life-changing risk and moved to enroll in the Art Academy of Cincinnati. Not only did this educational experience open up the world of art to him, but he also met Edith McKee who became his wife. As artists, they challenged and supported each other.
When Charley joined the army during WWII, his commanders recognized his ability to draw. He joined an intelligence and reconnaissance platoon. As a scout, he was responsible for drawing "quick, accurate sketches of the area." He also drew and painted scenes that depicted the people and areas through which he traveled. When he returned to the U.S., Harper took advantage of the GI Bill, and he enrolled at the Art Students League in New York City. Because of all of these life experiences, Charley had found his style, and he went on to build his outstanding body of work.
When Charley Harper drew a bird, he reduced the bird down into shapes of circles and triangles. His style is now recognized as "minimal realism." In describing his style, Harper said, "When I look at a wildlife or nature subject, I don't see the feathers in the wings, I just count the wings. I see exciting shapes, color combinations, patterns, textures, fascinating behavior and endless possibilities for making interesting pictures."
Michelle Houts biography is a fine companion to some of our art books on this talented artist.