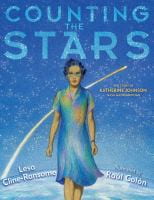 Counting the Stars: The Story of Katherine Johnson, NASA Mathematician by Lesa Cline-Ransome, illustrated by Raúl Colón (Simon & Schuster)
Katherine Johnson is one of the women who was featured in Hidden Figures by Margot Lee Shetterly. Counting the Stars is a picture book biography that narrates her life story for younger and intermediate readers.
When Katherine was born in 1918, few could imagine the world to which this child would contribute. Even before she was old enough to go to school, Katherine was fascinated with numbers, and she would count the stars outside of her bedroom window. Her teachers recognized Katherine's intellect, and instead of starting school in kindergarten, she started in second grade. During her second year of school, she was with the fifth graders, and when she was ten years old, she started high school. Her mother was a teacher, and even though her father didn't have as much formal education, he figured numbers in his head faster than any adult that Katherine knew. Her parents made many sacrifices to support the education of their four children. They rented a home 125 miles away from their farm for their children to attend school at the West Virginia Institute.
As a 15-year-old, Katherine started college at West Virginia State Institute. One of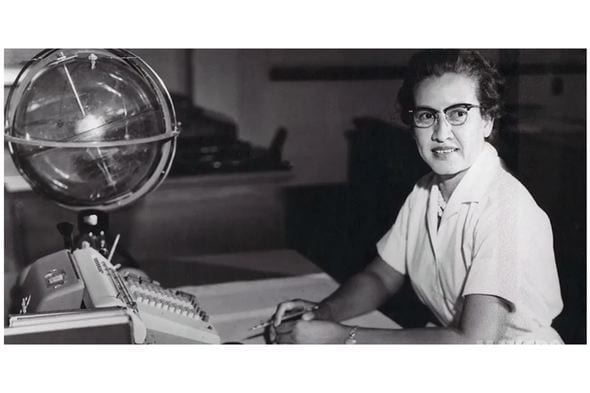 her professors designed an analytic geometry course for her when the college ran out of math classes for her to take. After graduation, Katherine became a high school math teacher where she met and married her husband. The salaries for the two were barely adequate to provide for their growing family of three children so they moved to Hampton, VA. The move proved fateful as Katherine was hired at the National Advisory Committee for Aeronautics at Langley Aeronautics. She became one of the human computers, a group of women of color who were gifted in math. After a short time, Katherine was loaned to the Flight Research Division, but the job soon became permanent when her talent was discovered. (Photo from NASA)
Even though Katherine could flawlessly analyze engineering formulas, she still faced prejudice and segregation that was accepted in her area. She fought to go to meetings with the engineers, and when her wish was granted, she was the only woman and the only person of color.
During her thirty-three years of service, Katherine Johnson continued to "Count the Stars" literally and figuratively. She worked on the trajectory analysis for many of the manned space flights, beginning with the first one with Alan Shepard Jr. When John Glenn wanted a final check on his computer's calculations, he told the engineers that he wanted Katherine to be called in to check on them. She has stated publicly that one of her proudest moments was working on the team that calculated the flight path for Apollo 11 and the first moon landing.
President Barack Obama presented Katherine Johnson with the Presidential Medal of Freedom in 2015.