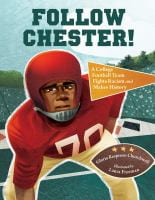 Follow Chester!: A College Football Team Fights Racism and Makes History by Gloria Respress-Churchwell, illustrated by Laura Freeman (Charlesbridge)
Follow Chester! is a non-fiction picture book that introduces readers to an amazing man, Dr. Chester Middlebrook Pierce. Before he became Dr. Pierce, Chester attended Harvard as an undergraduate, and he was the only African-American member of the starting lineup on the University's football team.
In 1947, Harvard was scheduled to play against the University of Virginia in Charlottesville, VA. Jackie Robinson had broken the color barrier in Major League Baseball, but there was rampant discrimination throughout the United States. There were Jim Crow laws that legally allowed communities and states to practice racial segregation. The University of Virginia assumed that Harvard would not bring a black player to the game. Harvard's coach, Dick Harlow, told Pierce that he deserved to play and would be going with the team.
Pierce's teammates stood behind him throughout that historic trip and game. Since Pierce faced insults and was called names by some students at Harvard, he came up with an idea about standing up to racism in Virginia. During the trip, whenever the team faced a situation that would single out Pierce from the rest of them, the young men would stand by him. When the restrooms were marked "Whites Only", they would follow Chester into the woods. When the Virginia coach didn't want to house Pierce in a hotel or campus room, he was forced to because the team wouldn't leave their fellow player behind. When Pierce faced a "Colored Entrance" in restaurants, the team followed him to that door. When UVA defeated Harvard on the field with a score of 47-0, Chester Pierce and the team were the ultimate victors.
Chester Pierce went on to Harvard Medical School and became a psychiatrist. He did important research with NASA and in Antarctica. One of Dr. Pierce's most important roles was that of being a senior advisor to Sesame Street. In that position, he advocated for the show to include a multi-ethnic neighborhood with people of color as role models. Throughout his professional life, he studied and analyzed the problems of race in the United States. He originated the term, "microaggression" which refers to a comment or action that subtly and often unconsciously or unintentionally expresses a prejudiced attitude toward a member of a marginalized group (such as a racial minority). from the Merriam-Webster Dictionary.