Picture book biographies for children have become works of art in recent years. It's not just younger children who enjoy them. Because of their content, students in the middle school also find them entertaining and valuable for research. Talented authors and illustrators bring the stories of historical and contemporary people to life in engaging text and art.
Most adults and children give little thought to the origins of the dictionary and thesaurus.  After reading about Noah Webster and Peter Roget, we not only learn about their famous works, but we find that they were pretty interesting characters. These two contemporaries each had a passion for language and a dream.
Noah Webster & His Words by Jeri Chase Ferris, illustrated by Vincent X. Kirsch (Houghton Mifflin, 2012) chronicles his life and cleverly includes the definition to words in the text.
Noah Webster always knew he was right, and he never got tired of saying so (even if, sometimes,  he  wasn't). He was, he said, "full of CON-FI-DENCE; (Noun: belief that one is right) from the very beginning.
Readers learn that Noah Webster knew all of the American Revolutionary heroes, and he told them about his belief that the thirteen colonies must become a nation.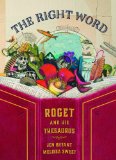 The Right Word: Roget and His Thesaurus by Jen Bryant and Melissa Sweet (Eerdmans Books for Young Readers, 2014) is one of the coolest picture book biographies that I have seen recently. The collage illustrations imitate the journals and word lists that Roget kept all of his life. Roget originally categorized his synonyms by concepts and ideas. In modern versions the words are listed alphabetically. In Greek, Thesaurus is a word that means "treasure house".