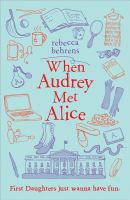 Some books that I pick up as just an entertaining read pique my interest to further investigate the subject they present. That's what happened with Rebecca Behrens' contemporary story, When Audrey Met Alice (Sourcebooks, 2014).  The main character portrayed in the book is Audrey Rhodes, and she is the "First Daughter" in the White House. With her mother as President of the United States and her father a busy scientist, Audrey has no one to share her challenging experience as an only child who faces the spotlight. She attends Friends Academy in Washington, D.C., and it is difficult for Audrey to determine whether her fellow students are interested in being her friend only because of her mother's position. It is also a bit difficult for a middle school girl to even talk to a boy when her Secret Service agent is hovering nearby.
Audrey plans a pizza and movie party for the entire eighth grade to see an advanced screening of a popular movie. When there is a security breach before the party, the White House is locked down and Audrey's party is canceled. This furthers the First Daughter's feelings of loneliness and isolation.
Shortly after the party, Alice discovers a treasure under an old floorboard in a closet in the Family Residence Dining Room. It was a fabric wrapped bundle that contained some old postcards, a pack of old cigarettes, and a leather diary. The items belonged to Alice Roosevelt, Theodore Roosevelt's oldest child, and the diary was written during Alice's years living in the White House. Instead of sharing her find, Audrey hides them in her room and begins to read Alice's diary. At last, she has found someone who understands what life as a First Daughter means.
The author did extensive research on Alice Roosevelt. She incorporated true information about Alice into the diary that her fictional character, Audrey, found. Alice was certainly a colorful character for her times, and probably even by contemporary standards. In Alice's fictional diary, she writes about wearing a color of blue that she enjoyed. There was a shade that was named after her, "Alice Blue" became popular in women's fashions of the times. The color is used by the United States Navy in insignia and trim on vessels named for Theodore Roosevelt. There was even a hit song in a Broadway musical, Irene that was "Alice Blue Gown". Rebecca Behrens website has interesting information to further investigate Alice.
I hope that some middle school readers might enjoy When Audrey Met Alice as much as I did.
(Photo of Alice Roosevelt from Wikipedia)