The children's literature community lost two giants in the field this week, Julius Lester and Ursula Le Guin. Both writers made significant contributions, not only with the books that they wrote, but also with the intellect that they brought to the discourse of literature for children and young adults.
Before becoming a writer, Julius Bernard Lester (1939-2018) hosted a radio and television show, recorded albums of original and traditional songs, and taught English and history at the university level. He was a distinguished photographer and professor at the University of Massachusetts, Amherst from 1971 until he retired in 2003. While his courses were highly sought after, he was not afraid of conflict. The Afro-American Studies faculty voted to have him removed from their department because of his characterization of James Baldwin's writings as being anti-Semitic. He finished his tenure in another department, and he continued to be honored as a distinguished teacher. (Photo from Jewish Week)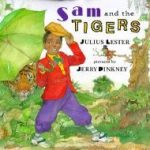 Lester was also highly honored in the children's literature field by numerous award committees: the Newberry, the Coretta Scott King, and the Boston Globe/Hornbook. It's difficult to choose my favorite book that he wrote for children. I continue to introduce many of them every year in my classes. Lester collaborated with illustrator, Jerry Pinkney, when he modernized the Uncle Remus Tales of Brer Rabbit in multiple volumes. They also produced significant picture books together: Sam and the Tigers: The New Telling of Little Black Sambo, John Henry, and Black Cowboy, Wild Horses: A True Story.
Ursula Kroeber Le Guin (1929-2018) wrote more for intermediate readers, young adults, and adults. She grew up surrounded by her parents' friends who were intellectuals in many fields. Her fantasy and science fiction novels, short stories, and poetry were groundbreaking because she pushed the boundaries in her alternate and alternative worlds. She wrote thoughtfully about gender, religion, race, and environmentalism. (Photo from Time)
Le Guin, also, was honored throughout her life by numerous organizations: the Library of Congress, the American Library Association, the National Book Foundation, and the Science Fiction Research Association to name a few. The Library of Congress recognized her contributions in 2000 and awarded Ursula Le Guin the Living Legend Award in the Writers and Artists category. In 2016, the New York Times described Le Guin as "America's greatest living science fiction writer".
Le Guin was influenced by many fantasy writers, among them were J.R.R. Tolkien, Lewis Carroll, and Kenneth Grahame. In turn, her writing has influenced important contemporary writers like Neil Gaiman and Salman Rushdie.
Ursula Le Guin's most important novels were her Earthsea Cycle: The
Wizard of Earthsea, The Tombs of Atuan, The Farthest Shore, Tehanu, The Other Wind, and Tales from Earthsea. The Wizard of Earthsea won many awards and was greatly discussed when it was published. Le Guin didn't write this for a strictly juvenile audience, she wrote it for readers. Her books are similar to Tolkien's because adults gain as much from them as young adults do.
Ursula Le Guin and Julius Lester have left legacies that will live on for future readers to enjoy.