"If they want to give me a medal for being me, I'll take it." (Quote from Auggie in Wonder)
When I was in elementary school, I read a book called Karen by Marie Killilea (Buccaneer Books, 1952). I can still remember the effect that this book had on me as a child. I felt such empathy for Karen, who was the subject of the biography. Marie shared the story of her daughter's life and struggles. Karen was born with cerebral palsy, and her parents chose to raise her at home to give her as normal a life as possible. With her parents' love and support and her own perseverance, Karen went on to live a productive and independent life. My young heart went out to her, and the book opened my eyes to the person inside.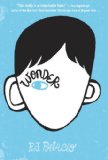 Fast forward to our children today. I believe that there is a book that is touching many of them just as Karen did me. That book is Wonder by R. J. Palacio (Knopf, 2012). While Palacio's book is a novel, the author has so meticulously crafted her story that the reader believes in the main character. The protagonist, Auggie, was born with genetic abnormalities, and he has undergone many operations. Even after so many surgeries, his face is severely disfigured. When he goes out, adults and children cringe when they see him, stare, or turn away. This story is of his fifth grade year when he enters school for the first time. He faces the daily revulsion that others demonstrate towards him, but he also discovers true friendship. He demonstrates exceptional courage, and many of his schoolmates learn something about themselves too. Palacio came up with the idea for Wonder because of her own family's experience when they saw a child like Auggie.
This is certainly a book that many of our fifth graders have been discussing, as they have chosen to read it with their teachers. The middle schoolers have also found it. Parents may want to read it themselves if they choose to share it with intermediate readers.
Years from now, I hope that many of today's readers will remember Wonder, as I remember Karen.