It's awards' season for all of us who are involved with books for children and young adults. On Monday, the American Library Association (ALA) announced their choices for the 2019 Newbery, Caldecott, Coretta Scott King Award, and numerous others for outstanding books, authors, and illustrators.
This week, I would like to introduce the winner and honor books of the 2019 Caldecott Award. This award "was named in honor of nineteenth-century English illustrator Randolph Caldecott." (ALA) An interesting aspect of this award is that it is given to the illustrator of the chosen picture book, and not the author. Many times, the illustrator is the author, but not always. While it's difficult to judge a picture book without considering the text, the committee is required to evaluate the visual experience of the book and whether the illustrations unite the story-line, themes, or concepts.
There's often a great deal of discussion among professionals in the children's literature field about the winner and honor books. Publishers look at the books differently than the illustrators, and librarians and teachers have their own ideas. It's important to remember that a committee made the choice, and the members compromise to come to an agreement. That's not to say this year's choices are not fine selections, but it's important to understand the process.
The 2019 Caldecott Award was given to Sophie Blackall for Hello Lighthouse (Little Brown). Blackall wrote and illustrated the picture book that chronicles the life of a lighthouse keeper. For her book, Blackall used ideas from logs that she found during her research on lighthouses. While depicting the daily life in a lighthouse, Blackall also depicts the passing of seasons. Throughout all of the challenges that weather brings, the lighthouse stands tall as a beacon to light the way for those traveling on the ocean. Blackall's Chinese ink and watercolor illustrations are not only detailed, but they also depict the structure from numerous perspectives.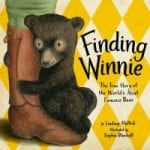 This was the second Caldecott Award for Sophie Blackall. She won it in 2016 for her illustrations in Finding Winnie: The True Story of the World's Most Famous Bear written by Lindsay Mattick (Little Brown).
There were four books that were recognized as Caldecott Honor Books in 2019.
Alma and How She Got Her Name, written and illustrated by Juana Martinez-Neal (Candlewick)
A Big Mooncake for Little Star, written and illustrated by Grace Lin (Little Brown)
The Rough Patch, written and illustrated by Brian Lies (Greenwillow)
Thank You, Omu! written and illustrated by Oge Mora (Little Brown)